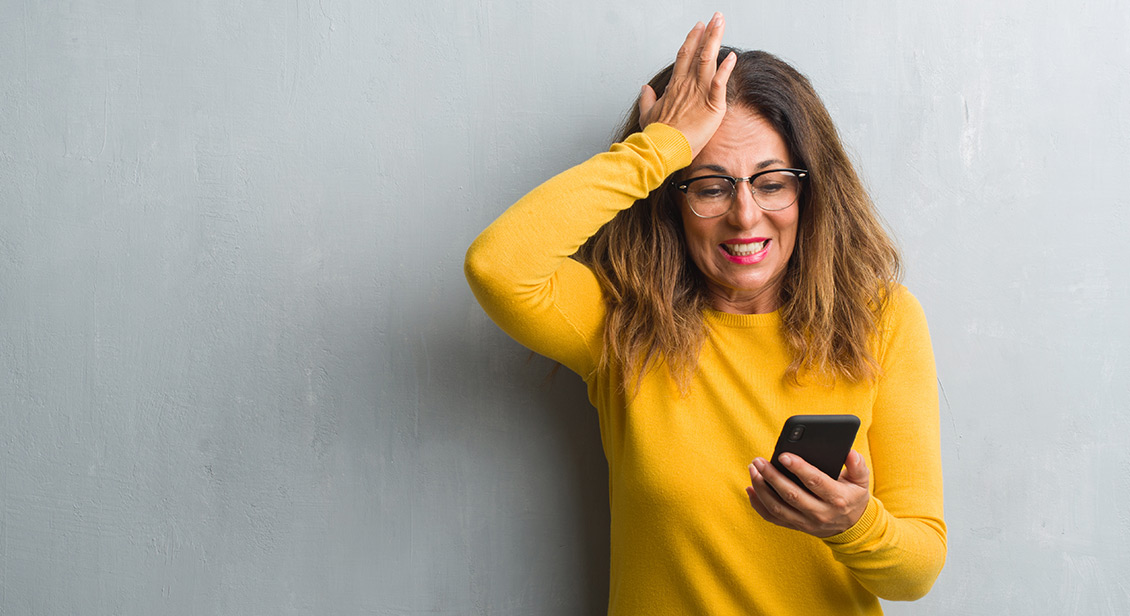 How to stop unwanted calls
High up on the list of annoying things in life are unwanted or nuisance calls. They can be from telemarketers or scammers, or even from somebody you don't want to hear from. Whatever the case, the good news is there's something you can do about them.
Telemarketers are bound by Australian regulations so you can put a stop to their calls with a few simple steps. Scammers on the other hand evade the law so you need to employ savvy tactics to avoid them. In this guide, we explore how you can block calls on your home and mobile phone, as well as hints and tips on how to avoid being scammed if or when you receive an unsolicited call.
In this article:
How to stop unwanted calls
Block calls. There are home phones you can buy that are designed to filter incoming calls. Phones like the Telstra Call Guardian help to block unknown callers by asking callers to identify themselves before you accept (or reject) the call. Contacts you have saved get straight through. You can also block calls from your mobile, but we'll get into that a little later.
Register on the Do Not Call register (DNC). It's free and you can register your home phone and mobile number. It should stop the majority of telemarketing calls, but there are organisations that are exempt, so you may still get calls from charities, research companies, registered political parties and educational institutions.
Consider making your home phone number private. By changing your home phone number to an unlisted or silent number, it won't appear in the print or online White Pages directory. Speak to your telecommunications provider or visit their website to see how you can unlist your number. It should be free of charge.
Ask the caller to remove you from their list. When you receive a call from a telemarketer, simply ask them to take you off their list. If you continue to receive calls from the same organisation, put in a direct complaint to them. If that doesn't work, you can contact the Australian Communications and Media Authority (ACMA). We've included the link to the complaint form at the end of this article.
Avoid sharing your phone number unless you have to. When you're filling out a form, only share your phone number if it's mandatory or necessary. For example, providing a phone number when you buy something online is necessary in case there are any issues with delivery, whereas providing your phone number when signing up to a newsletter is unnecessary.
How to block calls from your mobile phone
You can block unwanted calls by adjusting the built-in features on your mobile phone, or downloading apps specifically designed to block calls from unknown numbers.
Block individual calls
Your mobile can block specific numbers so that you no longer receive calls or messages from them. It's a built-in feature found in iPhone and Android phones, and can be done either by selecting a phone number that has already called you, or by entering a phone number manually. Take a look at our step-by-step video for instructions on how to block a phone number on your iPhone or Android phone.
Silence or block unknown callers
This built-in feature stops you from getting calls from people you don't know. It allows calls from your saved contacts to get through, including numbers that have sent you a text. Other callers are sent direct to your voicemail and will appear in your Recent Call list.
Before you turn this feature on, first make sure you save all your contacts, including places like your doctors surgery, so that you don't miss important calls. Earlier phone models may not have this feature, so check your Call Settings menu to see if it's available on your phone.
The Do Not Disturb function is another option you can use to mute calls and messages from people you don't know. You can set it up so that you only hear from your contacts or favourites list. Just be aware you could miss a call from somebody you want to hear from if they're not saved in your contacts list. You can find the Do Not Disturb feature in your Settings menu.
Call blocking apps
There are apps you can download that block spam and telemarketing calls on your mobile phone. They do this by matching the incoming call to their large database of black-listed phone numbers. Hiya and TrueCaller are popular examples of these call blocking apps. However, before you download an app, it's best to read up on their privacy policy to see what type of access to your contacts and data they require.
Some Samsung phones come with the Hiya app already built-in so you only need to go into your Settings menu to switch it on.
While not a call blocking app, the White Pages app is another option that helps to identify callers you don't know. It tells you who is calling as long as they're a business or government agency listed in the White Pages. The app doesn't identify silent, private or residential numbers.
How to block text messages
You can block spam text messages on your mobile phone. Keep in mind spammers can change their phone number so you may need to block their message again as and when they appear. The instructions below may differ slightly depending on the model you have.
On an iPhone
Open the message and click on the phone number at the top of your screen
Select the Info button, then select Info again when the phone details appear
Select 'Block this Caller' (scroll down if you can't see it on your screen)
On an Android phone
Open the message
Tap on the three vertical dots (More option) in the top right hand corner
Select 'Block number'.
How to avoid phone scams
Telemarketers may waste your time, but scammers will try to rob you of your money and personal information. If you find yourself on the receiving end of an unsolicited call, remember to follow a few simple rules.
Never let an unsolicited caller remotely access your computer, even if they say they're calling from a company that you're familiar with like NBN or Telstra. Large organisations will not call you about a problem with your computer or internet connection. They expect you to get in touch with them if you have a problem.
Never give out your password, personal or banking details over the phone to someone who has called you unexpectedly.
Do not answer calls from international numbers that are unknown to you. If it's a missed call, do not return it. When you call back, you are charged premium rates.
End unexpected calls and ignore messages that use scare tactics or put pressure on you to act quickly. Scammers are known to use language like, 'your computer or internet has been hacked', 'we've detected suspicious activity', or 'you've been billed for a purchase you didn't make'. Be firm but polite and end the call or ask for their details to call them back (never call back on the number given to you). Also, do not click on links in a text that uses scare tactics to get you to respond. If you're unsure, do an online search for the organisation's number and call them direct to enquire about the call or message you received. You can also do an online search for information on the latest scams. The Scamwatch website is always a good starting point.
Current phone scams
Scamwatch has received thousands of reports from Australians in relation to phone scams. In particular, people over the age of 55 have lost the most amount of money to remote access scams. Visit the Scamwatch website for more information on current phone scams like remote access scams and missed call or voicemail flubot scams.
For more information
Learn more about how you can avoid scams in our free course Identifying and avoiding scams.
Lodge a complaint with ACMA about a telemarketing call
How to detect and block spam phone calls on an iPhone
How to block or unblock a phone number on an Android phone
How to use the Do Not Disturb feature on your iPhone or iPad
How to use the Do Not Disturb feature on your Android device
Computer take-over scams on the rise
This post has been updated on 9 September 2021.